From Ian:
---
Nikki Haley, Jared Kushner:
For Gaza peace, tell the truth about Hamas
For the first time in the United Nations, more nations than not acknowledged that peace between Israel and the Palestinian people must be built on a foundation of truth regarding Hamas. They recognized that reconciliation is impossible if reality is denied for the sake of scoring political points. And part of that reality is recognizing the primary responsibility Hamas bears in perpetuating the suffering of the people of Gaza.

Unfortunately, Hamas' malign activity is pushing Israel to engage in increasingly significant acts of self-defense. As in the case of past conflicts, Hamas starts a clash, loses the battle and its people suffer. That is the reality that needs to change.

That foundation of reality underscores our administration's approach to the Israeli-Palestinian conflict. Recognizing Jerusalem as Israel's capital was a reflection of reality. Any realistic person knows that Jerusalem will remain the capital of Israel under any peace agreement. But as President Donald Trump said when he made that decision, he made no judgment about the final borders of Jerusalem; the President directly called on all parties to maintain the status quo at Jerusalem's holy sites. Those questions are for the parties to decide.

The peace proposal we will make will be similarly realistic, recognizing the legitimate needs of both Israel and the Palestinians as well as the interests of the broader region. No one will be fully pleased with our proposal, but that's the way it must be if real peace is to be achieved. Peace can only succeed if it is based on realities. We got a glimpse of that at the United Nations on June 13. We expect to see more of this in the days ahead. The battleship is turning around.
'Paradigm shift': Top Trump officials say UN may be 'turning around' on Israel
The officials said such a "realistic" attitude also underscored the administration's approach to the conflict as a whole and to its upcoming long-gestating peace initiative.

Just as US President Donald Trump recognized "reality" of Jerusalem being Israel's capital, "The peace proposal we will make will be similarly realistic, recognizing the legitimate needs of both Israel and the Palestinians as well as the interests of the broader region."

They added that "No one will be fully pleased with our proposal, but that's the way it must be if real peace is to be achieved. Peace can only succeed if it is based on realities."

The United States withdrew from the UN Human Rights Council in June, with Haley branding the global body a "cesspool of political bias," and adding that the council has a "chronic bias against Israel."

Since Trump took office, the United States has quit the UN cultural agency UNESCO, cut UN funding, and announced plans to quit the UN-backed Paris climate agreement.
PA: We have obstructed Trump's 'conspiracy' peace plan
The Palestinian Authority claimed on Saturday that the Palestinians have managed to "incapacitate" US President Donald Trump's yet-to-be-announced plan for peace in the Middle East, which has been referred to as the "ultimate deal" or the "deal of the century."

The PA repeated its charge that Trump's unseen plan was aimed at "liquidating" the Palestinian cause and national rights, and urged Palestinians to rally behind PA president Mahmoud Abbas.

The PA cautioned that although the Trump plan – which it called a "conspiracy" – has "subsided, it still hasn't gone away completely."

Palestinian sources said they believed the PA's announcement referred to "unsuccessful attempts" by the US administration to "bypass" the PA leadership by establishing direct and indirect channels with some Palestinian figures and parties, including Hamas.

On Friday, three senior Trump administration officials – Jared Kushner, Jason Greenblatt and David Friedman – offered to help the Palestinians in the Gaza Strip in return for an end to Hamas "aggression." The offer was made in an article the three top officials published in The Washington Post.

Both the PA and Hamas see such offers as being part of Trump's "deal of the century."
Hamas: Trump's envoys have become IDF spokesmen
Hamas on Saturday rejected as "trivial" an offer from the US administration to help the Palestinians in the Gaza Strip in return for ending attacks on Israel.

In response to an article published in The Washington Post by US President Donald Trump's advisers Jared Kushner and Jason Greenblatt and US Ambassador to Israel David Friedman, in which they called on Hamas to cease provoking or coordinating attacks on Israelis and Egyptians, and on infrastructure projects sponsored by donor nations and organizations, the terrorist group that rules the Gaza Strip accused the senior American officials of serving as spokesmen for the IDF.

Hamas spokesperson Sami Abu Zuhri, commenting on the article, claimed that the top US administration officials have "endorsed the Israeli narrative."

Abu Zuhri said that the continued attacks on Hamas "reflected the US administration's triviality." Officials of the US administration, he added, have become "spokesmen for the occupation army."
GAZA
Aviv Levi, 21, named as IDF soldier killed by Gaza sniper fire Friday
The soldier killed Friday by Palestinian sniper fire along the Gaza border was named by the IDF on Saturday night as Staff Sgt. Aviv Levi.

Levi, a 21-year-old from Petah Tikva, was an infantry soldier in the Givati Brigade. Levi was the first IDF fatality on the Gaza front since Operation Protective Edge in 2014.

"The IDF shares in the family's sorrow," the military said in a statement.

Prime Minister Benjamin Netanyahu said on Saturday that Levi fought terror in Gaza "with determination and bravery, and to our great sorrow, sometimes this struggle bears a very price."

"I am sending condolences from the bottom of my heart, on behalf of myself and on behalf of all Israeli citizens, to his family," Netanyahu said in a statement.

"Levi fell defending the nation, the land and the residents of the Gaza periphery. My heart is with his family this evening. May his memory be blessed," Defense Minister Avigdor Liberman wrote in a tweet Saturday.

Levi was wearing a bulletproof vest when he was hit in the chest, Hadashot TV news reported on Saturday. He was initially listed as seriously wounded but his condition deteriorated quickly.
IDF believes Gaza snipers used Iranian armor-piercing rifle to kill soldier
An initial investigation by the IDF has concluded that Staff Sgt. Aviv Levi, killed Friday by Palestinian sniper fire on the Gaza border, was hit by an armor-piercing bullet fired from an Iranian-manufactured rifle, Hadashot TV news reported Sunday.

The gun used in the attack was said to be an Iranian replica of an Austrian Steyr rifle.

According to the report, the IDF was aware Hamas was in possession of such weapons, which can penetrate the standard ceramic vests used by the majority of soldiers.

However, given the low likelihood of the rifle's use, and the heavier weight of vests capable of protecting from such bullets, more specialized protective wear is only used in special cases.

As the military continued to investigate the circumstances of Levi's death, hundreds participated in the soldier's funeral in Petah Tikva, near Tel Aviv.
Hundreds attend funeral for IDF soldier killed Friday on Gaza border
Hundreds of mourners attended the funeral Sunday in Petah Tikva of Staff Sgt. Aviv Levi, who was killed by Palestinian sniper fire on the Gaza border on Friday.

Levi, a 21-year-old from Petah Tikva, was an infantry soldier in the Givati Brigade. He was the first IDF fatality on the Gaza front since Operation Protective Edge in 2014.

"It is not easy to eulogize a child. It is not natural," said Levi's father, Yaakov, to the crowd of mourners, the Ynet news site reported.

"You were a ray of light for us, glowing and smiling. We loved to watch you grow into the man you became. You were the salt of the earth and paid the highest price because you excelled. You did not evade any task, big or small. You watched over your friends. We are not parting from you — you will be with us forever."
Tense calm in south, but arson kite sparks fire at kibbutz; IDF hits Hamas posts
An incendiary device launched from Gaza on Saturday sparked a fire at a southern kibbutz, prompting Israeli reprisal fire at a Hamas post Saturday afternoon, but overall things were relatively calm Saturday after deadly violence a day earlier.

The incendiary device launched from the Hamas-run enclave fell at Kibbutz Nahal Oz, east of northern Gaza. It caused a fire at the kibbutz cowshed and at a storage center; cows were moved out of the cowshed and roamed parts of the kibbutz, as firefighters battled to bring the blaze under control, Army Radio reported.

The Israeli response was the second tank shell strike in the day. Earlier a tank fired at a Hamas observation point east of Gaza City, saying it was retaliation for an attempted border infiltration in northern Gaza. The suspects returned to the enclave, according to the army. There were no reports of Palestinian casualties.

The ceasefire announced overnight Friday-Saturday largely held in place Saturday after a wave of air strikes across the enclave a day earlier, sparked by the death of an Israeli soldier shot by Palestinian snipers at the border. The officer was the first IDF fatality on the Gaza front since Operation Protective Edge in 2014.
Israel fires tank shell at Hamas post after suspects infiltrate Gaza border
The IDF fired a tank shell at a Hamas post Saturday morning after several Palestinian suspects attempted to infiltrate the border into Israel in the northern Gaza Strip, the military said.

The suspects returned to the enclave, according to the army. There were no reports of Palestinian casualties.

The incident was the first breach of the ceasefire announced by Hamas at midnight, following widespread Israeli airstrikes Friday after a soldier was shot dead by a Palestinian sniper.

Israel has not officially confirmed that a truce is in effect, though it appears to have taken the position of halting strikes as long as Gazans stop attacks and provocations.

After a security assessment, residents in the Gaza periphery were told they could return to their normal lives on Saturday morning.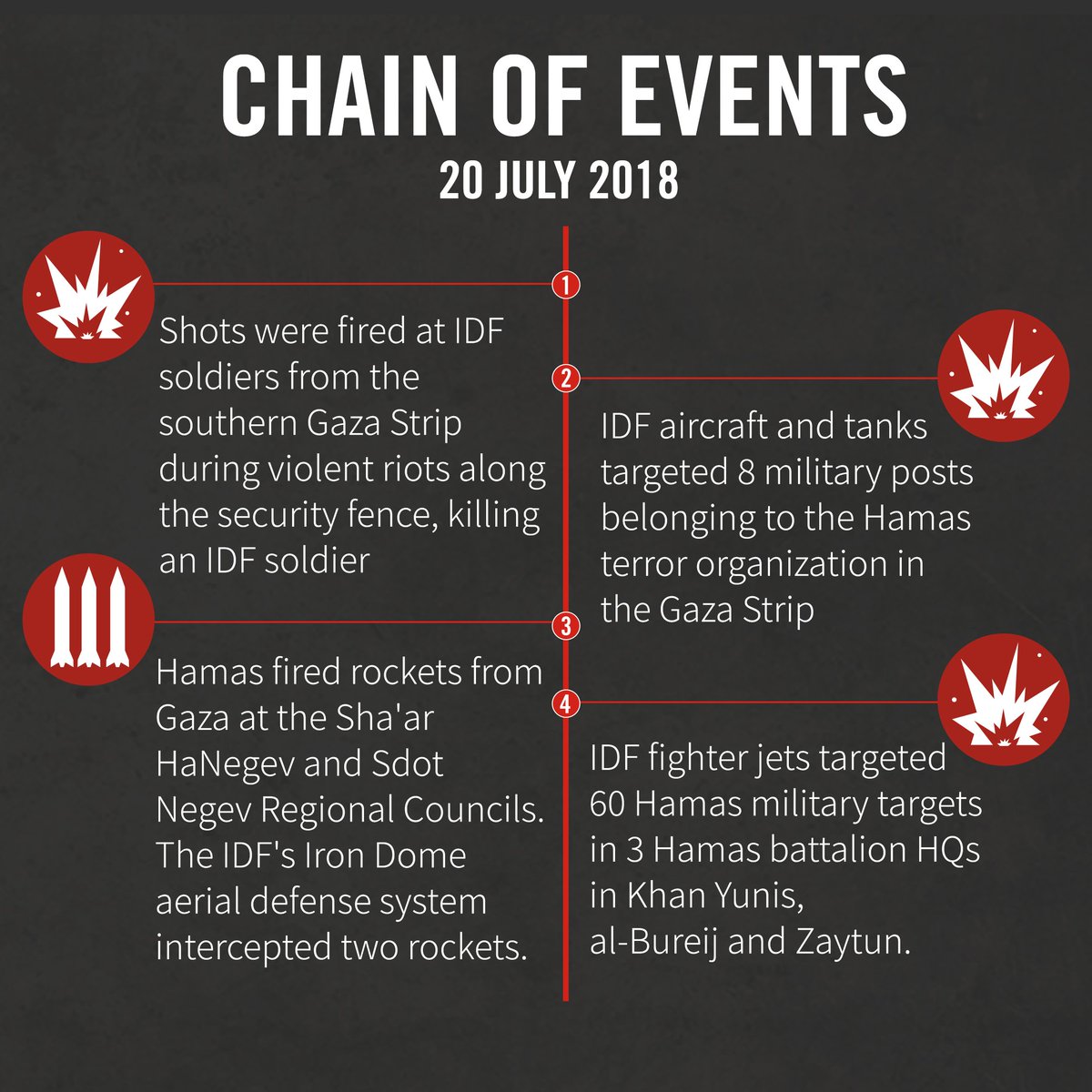 In response to the violent activity emanating from the Gaza Strip and the death of an IDF soldier, the IDF struck eight Hamas military targets and three Hamas battalion headquarters yesterday

pic.twitter.com/XXmtA3YMqY

— IDF (@IDFSpokesperson) July 21, 2018
IDF fighter jets continue to strike military targets throughout the Gaza Strip. The IDF recently completed an additional strike on 25 military targets located in a Hamas battalion headquarter in Khan Yunis in the southern Gaza Strip

pic.twitter.com/jcQL21fgKQ

— IDF (@IDFSpokesperson) July 20, 2018
— IDF (@IDFSpokesperson) July 20, 2018
The IDF struck 60 sites in 3 Hamas battalion compounds. The targets included weapon manufacturing sites, a shaft to a tunnel network, a factory used for underground infrastructure manufacturing, a UAV warehouse, military operations room, training facilities, and observation posts

pic.twitter.com/uTCxAyg2By

— IDF (@IDFSpokesperson) July 20, 2018
Israel to Hamas: Two days of quiet needed for Gaza crossing to reopen
Two days of absolute quiet — without any border violence, incendiary kites and rockets — are needed before the Gaza crossings will reopen to anything but food and medicine, Defense Minister Avigdor Liberman said on Sunday morning.

Until then, the Israeli ban on fuel and gas as well as all commercial goods remains in place.

"The residents of Gaza must understand that as long as there fires and flaming balloons, life will not return to normal on their side as well.

"Yesterday was the calmest day since maybe March 30th. Therefore my message to the people of Gaza is responsibility," Liberman said.

"If the situation will continue today and tomorrow as it was yesterday, than on Tuesday we will restore life at the Kerem Shalom crossing to normal," Liberman said.

"The key is quiet and calm, and zero flaming balloons and conflict by the fence," Liberman said.
Egypt said to warn Hamas that response to Israeli strikes would spark war
An unofficial ceasefire reached overnight Friday-Saturday between Israel and Hamas came after Egypt warned the Palestinian terror group that Israel would launch a war "in two hours" if Hamas responded to IDF retaliatory strikes in Gaza following the killing of an IDF soldier by Palestinian sniper fire, Israeli television reported Saturday.

Channel 10 news also reported that Egypt threatened to impose sanctions on Hamas if it does not end the launch of incendiary airborne devices toward Israeli territory.

In return for honoring these conditions, Hamas demanded Israel ease restrictions on the flow of goods into Gaza, the report said. Hamas also called for Egypt to keep open the Rafah border crossing and to press Palestinian Authority President Mahmoud Abbas to pay the salaries of PA employees in Gaza.

Abbas has been withholding the salaries as part of the split between Abbas's Fatah party and Hamas, which seized Gaza from Fatah in 2007. A number of reconciliation agreements have failed to bridge the divide between the sides, including an Egyptian-mediated deal reached in October.

The ceasefire announced by Hamas, which Israel has not confirmed, came into effect around midnight Friday as the escalation in violence along the border raised fears of a wider military conflict.
JPost Editorial:
Hamas is to Blame
This weekend saw the first IDF casualty since the 2014 war, when 21-year-old Staff Sgt. Aviv Levy from Petah Tikva was killed by Hamas sniper fire from Gaza Friday afternoon.

It is a sad state of affairs, one that Hamas is responsible for. It has the ability to change the future, but to do so it would need to change its purpose from an entity obsessed with Israel's destruction to one focused on caring for its people and upgrading their quality of life.

Sadly, it is a reality like the one depicted by Golda Meir in the quote famously attributed to her: "If the Arabs put down their guns there would be no more fighting. If the Israelis put down theirs there would be no more Israel."

What Hamas continues to show is that, even 70 years after Israel's establishment, some enemies are still blindly motivated by a radical ideology with a complete disregard for reality. Hamas stands no chance of destroying or defeating Israel.

But that doesn't stop it from trying with rockets, tunnels, kites and border protests. It is a terrorist group, no different than any other group that uses terror to try and advance unrealistic political ambitions.

Hamas needs to pay a price. Israel has every legitimate right to attack Hamas targets and to use military force to stop attacks against itself. This is important to keep in mind as this round of violence continues. Politicians, international institutions and certain media will claim the contrary, but they are wrong. There is one side to blame for what is happening in Gaza, and that side is Hamas.
Hamas got the message
Yet Hamas is not even willing to hear about the "Gaza first" plan offered by the Trump administration within the framework of the regional peace plan it is busy consolidating. Details of the plan were presented in a joint opinion piece by senior adviser Jared Kushner, Special Representative for International Negotiations Jason Greenblatt, and Ambassador to Israel David Friedman in The Washington Post, Friday. While the plan promises billions in dollars for Gaza's rehabilitation, it does so in return for a heavy political price from Hamas, first and foremost the disarmament of the terrorist organization as well as the other armed groups operating in Gaza. Hamas has rejected this demand, and what better than literally setting Israel's south on fire and escalating the security situation in Gaza to make this perfectly clear and, at least for the time being, take the White House's plan – which has the support of the moderate Arab states – off the negotiating table.

As for deterrence, Hamas has come to understand it cannot rely on kite terrorism and incendiary balloons forever and as a result, has decided to suffice with the "achievement" of killing an IDF soldier on the border with sniper fire. The fact that Hamas political bureau chief Ismail Haniyeh was visiting the area where protesters gather near the border fence, not far from where the soldier was shot, and his guards rushed to remove him from the area as soon as they learned of the shooting out of fear of the IDF's response is proof the decision to kill the soldier was made at the field commander level and not by Hamas' senior leadership.

Hamas, which has grown accustomed to having the luxury of being warned in advance of IDF strikes so that it can remove its members from positions slated for attack, was surprised by the speed and intensity with which the IDF responded to the soldier's killing on Friday. The terrorist organization rushed to seek the mediation of Egypt and U.N. Middle East envoy Nickolay Mladenov to quickly reach a cease-fire. Israeli officials, however, did not suffice with Hamas' assurances and demanded guarantees from the Egyptians Hamas was committed to completely halt the kite terrorism before they would stop the air strikes on Gaza. The Egyptian mediators made Israel's message clear to Hamas, which was that "we will not shoot children and youths flying kites. But we will not hesitate to carry out targeted assassinations of senior members of the military wing and even the heads of the political leadership of Hamas."

These messages were enough to convince the heads of Hamas that in the event of a military conflict with Israel, the Arab states would not blindly support them as they had done in the past and that they would be wise to accept the terms of the cease-fire in light of their perceived achievement of killing an Israeli soldier on the border.
Arabs on social media celebrate killing of Israeli soldier
IDF Staff Sgt. Aviv Levi, 21, was killed Friday night while on patrol along the Gaza border. His girlfriend, Shahar Erez, eulogized him in a heart-wrenching post on Facebook and Instagram. A short while later, after her posts went viral and her identity became public, Arab users on both platforms flooded her pages with abusive messages and expressions of joy over Levi's death.

In her post, Erez, wrote of a fearless young man with whom she was planning a future.

"My dearest love, my fighter. The heart burns and the tears won't stop. Who would have thought you'd be gone so quickly?" she wrote.

"You were never scared, no matter what was in front of you. My Aviv, we had a million plans ahead of us and we were counting the days until we'd be together again. Your birthday is in two weeks and while I was making plans for a perfect celebration, everything exploded.

"I refuse to believe this is real. I refuse to believe you are gone," she wrote.

While hundreds of Israelis rushed to post messages of condolences and encouragement, dozens of Arab users did the opposite.

Repugnant comments, such as, "We sent your boyfriend to hell," "Gaza is waiting for you. It will be your graveyard," and worse, were just a small portion of the dozens of vitriolic messages in Hebrew and Arabic posted to her accounts. Over 50 such comments were posted within two hours.
Israel blasts CNN's coverage: 'Stop your manipulation'
BBC News website reports fatal 'gunshot', fails to identify perpetrator
White Helmets
NETANYAHU SAYS TRUMP, TRUDEAU ASKED ISRAEL TO HELP EVACUATE WHITE HELMETS
Israel wins widespread praise for role in rescue of Syria's White Helmets
Ex-IDF soldier from California sneaked into Syria to fight Islamic State
2. Bitter

@KenRoth

, who naturally turns the Israeli army's rescue operation into a passive "allowed them to pass through"; and then injects the word "occupied" in accordance with Roth Rule #1: Never mention Israel without something negative.

https://t.co/UiyubB9c6o

— UN Watch (@UNWatch) July 22, 2018
BBC promotes what it described in April as 'conspiracy theories'
PEACE
The winner of the Trump-Putin summit is Israel
New York Times Loses It Over Israel's 'Incendiary' Nation-State Law
South African celebrity expected to be turned away from Israel's border
ISRAEL
15 Jews arrested at Temple Mount, as record numbers visit for Tisha B'Av
Jordan, PA protest as record number of Jews visit Temple Mount for Tisha B'Av
Breaking the Silence: Watchdog group or extremist organization?
HR's Daniel Pomerantz joins i24News to discuss Israel's new "Breaking the Silence Law" that limits certain organizations from entering Israeli public schools.
GN
THERE'S NOTHING IRONIC ABOUT IT
CHAINSMOKERS BRING PARTY TO RISHON LEZION
Moody's affirms Israel's A1 rating, gives economy positive outlook
Scholar reveals morbid roots of lost Stanley Kubrick script
World War II hero is buried, 73 years after he was killed by the Germans
— History Lovers Club (@historylvrsclub) July 22, 2018
---
---
We have lots of ideas, but we need more resources to be even more effective. Please
donate today
to help get the message out and to help defend Israel.