From Ian:
---
Anti-Israel Democrats Defend Past Comments At Anti-Israel Restaurant
Freshman Democratic congresswomen Ilhan Omar (Minn.) and Rashida Tlaib (Mich.) defended their comments on Israel and its influence in the United States on Wednesday night at Busboys and Poets, a restaurant owned by a man who himself has said the United States takes "marching orders from Tel Aviv."

The Washington, D.C., restaurant was filled to capacity for the "Progressive Town Hall," which also included representatives Pramila Jayapal (D., Wash.) and Mark Pocan (D., Wis.), who heads the influential Progressive Caucus in the House. The members were introduced by restaurant owner Andy Shallal, an activist who in addition to arguing that the United States takes orders from Israel has accused the Jewish state of "terrorizing" the Middle East.

Omar, a Somalian-born Muslim from Minnesota, has found herself apologizing for comments she made about Israel that have been deemed anti-Semitic, but on Wednesday night defended her criticism of Israel and said the criticism comes just because of her religion.

"What I am fearful of, because both Rashida and I are Muslim, is that a lot of our Jewish colleagues and constituents go to thinking that everything we say about Israel is anti-Semitic because we are Muslim," Omar said. "It's something designed to end the debate."

"It's almost as if every time we say something that is supposed to be about foreign policy, or advocacy about ending oppression, or the freeing of every human life, we get to be labeled and that ends the discussion," she said. "We end up defending that and nobody gets to have the broader debate about what is happening with Palestine."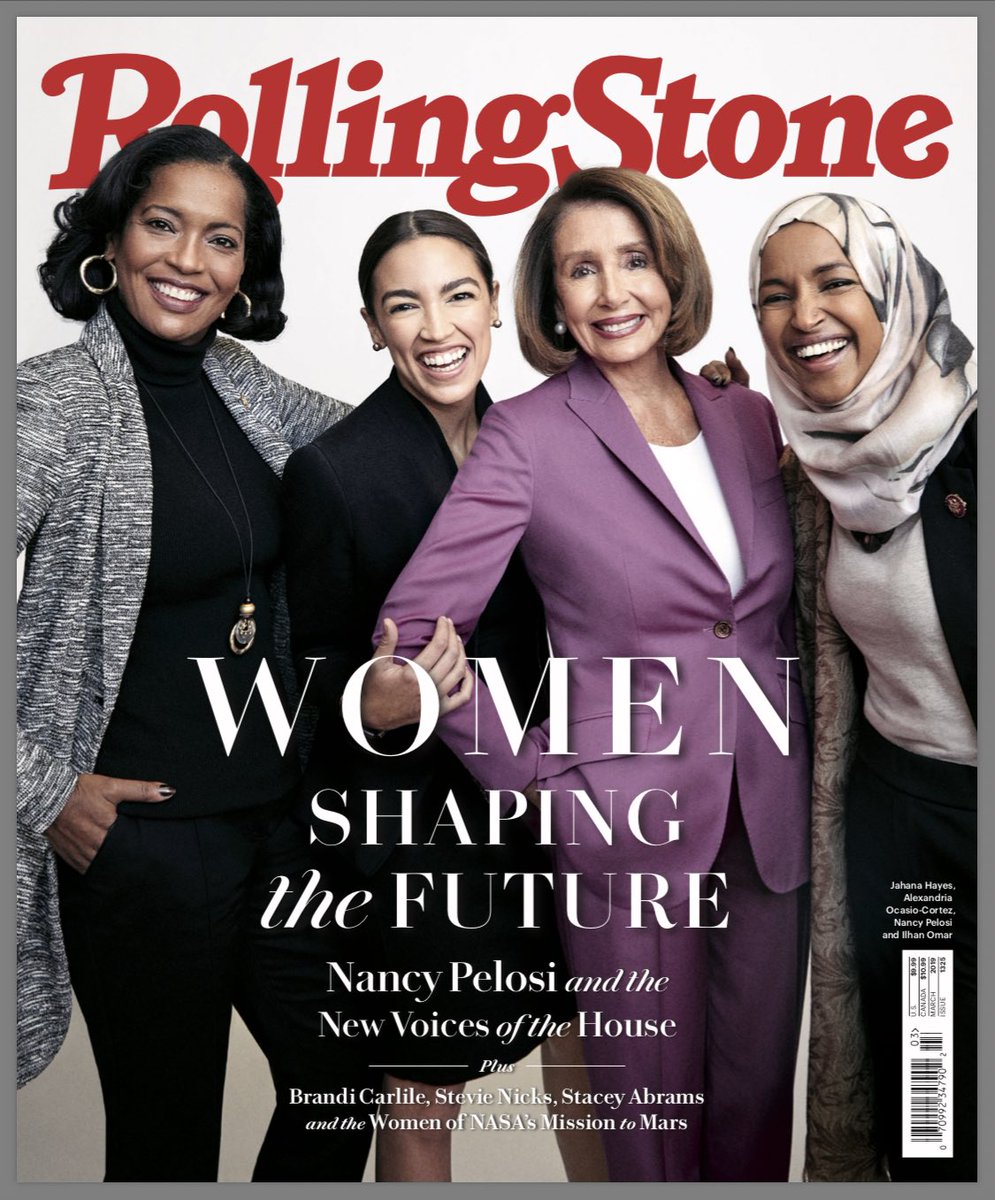 Omar Grins After Audience Member Celebrates 'All About the Benjamins' Tweet
As Omar was about to speak next, an audience member shouted out, "It is about the Benjamins," a reference to Omar's tweet earlier this month that said House Minority Leader Kevin McCarthy (R., Calif.) wanted to punish her and Tlaib's anti-Israel rhetoric because he was being paid off.

Omar grinned, and Tlaib looked to the side and smiled while taking a drink, seemingly suggesting she agreed with the sentiment, in a moment noted by Jewish Insider.

Omar also tweeted this month that AIPAC, the pro-Israel lobbying group, was paying off politicians to support Israel. She was eventually forced to apologize, although she said this week it was about how she made people feel, not about being anti-Semitic.

Tlaib has suggested pro-Israel politicians have dual loyalties, a classic anti-Semitic canard, and Omar has repeatedly been dogged by anti-Semitic controversies, before and since taking office. She tweeted in 2012 Israel had "hypnotized" the world with its "evil" actions, declared it's amusing to her that the Jewish state is considered a democracy, and supported BDS, which Senate Minority Leader Chuck Schumer (D., N.Y.) has called anti-Semitism in action.
Top Four Reasons Why Rep. Ilhan Omar is Wrong about AIPAC, Israel and the Palestinians
4. Omar's "evil doings" of Israel are actually "evil doings" of the Arabs and the Palestinians

The evil doings of Israel that Omar refers to include first and foremost Israel's supposed refusal to permit a Palestinian state. Yet history shows it is the Arabs and the Palestinians who have stood in the way of a Palestinian state, not Israel. Opportunities for a Palestinian state were rejected by the Palestinians and the Arab states multiple times, including:


In 1947 UNGA 181, the so-called Partition Resolution called for creation of a Jewish and an Arab state out of the territory of the British Mandate for Palestine. The Jews accepted the compromise, while the Arabs rejected it and promised to annihilate the Jewish state the moment the British withdrew. While the Palestinians and five Arab states attacked Israel and expected to win easily, in the end the Israelis, at great cost, beat back the invaders and survived the war. The Arab states made no effort to create a Palestinian state in the Mandate territory that they occupied after the war. For example, Jordan's King Abdullah annexed the West Bank to his kingdom.
In 2000 President Clinton hosted Palestinian leader Yasir Arafat and Israeli leader Ehud Barak for intensive talks at Camp David. After grueling negotiations Israel accepted the so-called Clinton parameters, but Arafat and the Palestinians rejected them. The Saudi representative to the talks, Prince Bandar bin Sultan, memorably said "If Arafat does not accept what is available now, it won't be a tragedy, it will be a crime."
But Arafat did turn down the Clinton parameters and instead returned home and triggered the so-called Second Intifadah, which included numerous Palestinian suicide bombings and other terrorist attacks in which over a thousand Israelis were killed.
In 2008, after extensive talks, then Israeli Prime Minister Ehud Olmert met with Palestinian President Mahmoud Abbas and presented a comprehensive peace plan. Olmert's plan would have annexed the major Israeli settlements to Israel and in return given equivalent Israeli territory to the Palestinians, would have divided Jerusalem, and also included a partial Palestinian "right of return." According to The Washington Post's Jackson Diehl, who had previously covered the region, "Olmert's peace offer was more generous to the Palestinians than either that of Bush or Bill Clinton; it's almost impossible to imagine Obama, or any Israeli government, going further." Despite this, Abbas admitted to Diehl that he walked away.

Rep. Omar has got it exactly backwards. If there have been evil doings against the Palestinians, the perpetrators she should be upset with are the Arab and Palestinian leaders, especially Yasir Arafat and Mahmud Abbas, who did their best to nurture and perpetrate the conflict, rather than ending it on an honorable basis, all at the expense of the ordinary Palestinians Ilhan Omar claims to care about.
Omar on Anti-Semitic Tweets: I Did Not Apologize for Being Anti-Semitic
Commenting on anti-Semitic tweets she wrote earlier this month, Rep. Ilhan Omar (D., Minn.) said she did not apologize for being anti-Semitic during an interview with The Intercept released on Thursday.

"You've since apologized unequivocally for the tweet. You've said rightly that anti-Semitism is real. But just to be clear, I mean we're a few weeks on now, what were you apologizing for? Was it a badly worded tweet that you were apologizing for? Or was it for being anti-Semitic, wittingly or unwittingly?" host Mehdi Hasan asked around the 12:45 mark of the audio at the link above.

"Oh absolutely not," Omar responded. "I apologized for the way that my words made people feel. Oftentimes, you know, we are in places where someone will say something, and they might not know how it makes you feel and it's not acceptable, that once you express to them that this is hurtful, that you have felt attacked by their words, they should acknowledge how you feel, they should speak to that, they should apologize and figure out a way to remedy that situation."

"That's why you apologized?" Hasan asked.

"That's why I apologized," Omar said.

"And is that why you deleted your tweets this week?" Hasan asked. "The chairwoman of the Republican Party is all over Twitter suggesting that was some sort of … bad faith move on your part."

"I mean for a Republican who always makes a bad faith move to call someone out on that is laughable … The reason and the purpose of the apology was to make sure that the people who were hurt felt understood and heard, and leaving the tweets up no longer would be part of that," Omar said.
— Ozraeli Dave (@Israellycool) February 27, 2019
CAMERA Op-Ed:
The Washington Post's Two-Dimensional Reporting
If "democracy dies in darkness"—The Washington Post's Trump-era slogan—then journalism dies in superficiality and bias by omission. The Post itself shows how.

"Republicans accuse Muslim lawmakers of anti-Semitism," by reporters Mike DeBonis and Robert Costa in the Feb. 9 print edition, evaded dealing with the anti-Zionist, anti-Jewish statements and actions of two Democratic members of Congress in context.

Instead, The Post played criticism of Rep. Ilhan Omar (D-Minn.) and Rep. Rashida Tlaib (D-Mich.) as "part of a larger GOP effort to drive a partisan wedge into the traditionally nonpartisan relationship between the United States and Israel." The Post's op-ed pages—in a move that Seth Mandel, the executive editor for The Washington Examiner magazine, called "bonkers"—even defended Omar.

This journalistic "framing" avoided examining hostility to the Jewish state as a gateway to renewed hatred of the Jewish people. French President Emmanuel Macron got it right in 2017, stating, "anti-Zionism is the reinvented form of anti-Semitism."

Contrary to The Post, Democrats didn't need Republicans spotlighting Omar and Tlaib's trafficking in, then at times back-tracking from before returning to anti-Jewish canards, including covert Israeli manipulation, dual loyalty by American Jews and Jewish money buying American political support for Israel to divide them. Not that the newspaper acknowledged it, but a growing intra-party split was visible at the 2012 Democratic National Convention.
Rashida Tlaib Suggests Mark Meadows Is Racist. He Flattens Her.
Tlaib's accusation came after Meadows invited Lynne Patton, a top Trump housing official who is black, to attend the hearing in order to push back on any accusations that Trump was racist.

"Just because someone has a person of color, a black person, working for them does not mean they aren't racist and … the fact someone would actually use a prop, a black woman in this chamber, in this committee is alone racist in itself," Tlaib said as she took aim at Meadows.

"Meadows, a Trump ally and head of the conservative Freedom Caucus, immediately demanded a retraction," The New York Post reported. "Getting emotional, Meadows said his nieces and nephews are people of color and he rejected any notion he's a racist."


The fact that Tlaib would accuse anyone else of bigotry is astonishing given the fact that she is a documented anti-Semite. Here are just some of Tlaib's actions:
Promoted anti-Semitic conspiracy theories
Embraced anti-Semites and alleged Muslim Brotherhood sympathizers
Supports anti-Semitic Boycott, Divestment, and Sanctions campaigns against Israel
Does not support a two-state solution between Palestine and Israel
Been photographed with Islamic terrorist sympathizers
Belonged to a Holocaust denier group
It doesn't say anything about America. It does say a lot about the people involved. It shows how Cummings and Meadows can treat each other like human beings, despite their differences. It also shows how Tlaib smears and dehumanizes people she disagrees with.

https://t.co/Shs2Tv3iyB

— (((AG))) (@AG_Conservative) February 27, 2019
BBC R4's 'PM' presents one-sided comment on MP's suspension
She went on to promote a blatant falsehood:

Manson: "But a lot of groups within the Jewish community do not consider it's a major problem, including for example the Haredi Jews who have written letters supporting Jeremy Corbyn and who I speak to quite frequently who've met antisemitism all their lives but not from people in the Labour party."

Davis did not bother to clarify to listeners that Manson was apparently referring to the tiny, fringe anti-Zionist sect Neturei Karta and that over 85% of British Jews "see antisemitism as having significantly infiltrated all levels of the [Labour] party".

Proposing that "you have a different threshold for antisemitism than other people", Davis then brought up the Naz Shah story which Manson dismissed as "a joke made by an American Jew" before coming up with her own erroneous definition of antisemtism.

Manson: "Antisemitism broadly is hatred of Jews […] it's hatred of Jews with – I'm told by lawyers I've talked to about it – with a sense of impending violence. Something very, very nasty. And it's being stretched to be criticisms of Israel that people don't like, criticism of Zionism that people don't like and in some cases just quick unthinking talk."

Failing to challenge that inaccurate definition of antisemitism – and to remind listeners that there is one accepted definition used by their own government – Davis tried to put the point that stereotypes of Jews are tolerated in a way that stereotypes about other groups of people are not. However the broadcast again ran into technical difficulties and the item was brought to a close.

As we see the producers of 'PM' apparently thought it satisfactory to provide audiences with an entirely one-sided view of this story based on comments on Facebook from Chris Williamson's supporters and a representative of a tiny, extremist political group which in no way represents mainstream Jewish opinion in the UK.
NEW: Corbyn didn't think Livingstone's 'Hitler' interview was worth suspending him, ex press officer claims. Relevant today amid claims JC didn't want Williamson suspended either.

pic.twitter.com/LXfyAzL574

— Paul Waugh (@paulwaugh) February 27, 2019
UK's Labour suspends MP who said party 'too apologetic' on anti-Semitism
Britain's Labour Party on Wednesday suspended one of its lawmakers after he suggested the party had apologized too much about anti-Semitism in its ranks.

Chris Williamson, member of parliament for Derby North and a close ally of Labour leader Jeremy Corbyn, will face an investigation after he said the party had been "too apologetic" to people complaining about anti-Semitism within the party.

"Chris Williamson is suspended from the party, and therefore the whip, pending investigation," a Labour Party spokesman said.

On Tuesday, Williamson was severely criticized by fellow MPs for his remarks, which he made to the hard-left Momentum faction. He swiftly apologized but the party later decided to suspend him.

Thirty-eight Labour MPs wrote to party general secretary Jennie Formby demanding Williamson be suspended.

His "actions have brought the party into disrepute and his behavior must be investigated and dealt with," the letter read.

A video of Williamson's speech published by The Yorkshire Post in the city of Sheffield showed the audience applauding him.
Jackie Walker Shares More Anti-Semitic Imagery While Defending Chris Williamson
Jackie Walker spent most of yesterday evening vigorously defending now suspended Labour MP Chris Williamson from the half-hearted actions of the Labour Party, just days after she shared yet another arguably anti-Semitic image on her Facebook profile. The big hook nosed image is a standard trope..

Walker seemed particularly upset at how the Labour Party belatedly told Chris Williamson that it probably wasn't a good idea to host a screening of her film called 'The Witchhunt' which defends Walker's many bouts of anti-Semitism. She shared a supportive letter defending Chris Williamson and demanding that the film be shown in Parliament, whilst defending herself and her clearly anti-Semitic statements on the grounds of "dialogue and debate."

Walker, a former Vice Chair of Momentum, has previously said Jews financed the slave trade, criticised Holocaust Memorial Day, and promoted conspiracy theories about Jews in the media. Despite this Williamson was determined to screen her film. Clearly neither of them have learned their lesson…
Harvard alumna: Silenced for questioning at Palestinian event - watch
Harvard graduate Vanesa Levine posted a video on Facebook earlier this month claiming, "a Palestinian man physically and verbally assaulted me because he was threatened by my words."

In the video, which already has close to 40,000 views, Levine said she was attending a Harvard Club event at which a Palestinian guest lecturer was presenting. She described him as "spreading such lies and hatred of people."

At the end of the event, Levine rose from her chair to ask a question, and she said she was "literally silenced by the entire room."

Her question was how the lecturer is trying to pave the road to peace when he is teaching the next generation hatred and to kill Jews.

"How are you expecting the next generation to have peace?" she asked.

In response, she alleges that a grown man "the age of my father" came up to her, put his hands on her and tried to stop her from speaking. He tried to take the microphone, pushed her and called her a slut, she claimed.

A woman in the audience called for Levine to leave and to be kicked out of the Harvard Club.

"I said no, I earned my way here, I got my master's degree at Harvard, you are not going to kick me out for simply asking a question," Levine said in the video. "The entire room tried to silence me. Everyone was against me, and all I had was a simple question."
'Palestine Solidarity Week' at Wake Forest University Draws Concern From Zionist, Jewish Students
Students at Wake Forest University in North Carolina are hosting a week-long campaign to support the Palestinian cause, sharing materials and organizing events that have drawn push-back from some Zionist and Jewish students.

The "Solidarity with Palestine" week — promoted by groups including the school's chapter of the Young Democratic Socialists of America (YDSA), but not explicitly claimed by any — includes the display of a mock wall on campus, which mimics the security barrier the Israeli government began constructing in the West Bank during the Second Intifada in response to repeated suicide bombings and other Palestinian terrorist attacks.

The mock wall includes a four-panel map that labels all of modern-day Israel, the West Bank and Gaza Strip as "Palestine," above the caption, "end the occupation." Other quotes include the phrase, "resistance is not terrorism." The word "resistance" has in the past been used by Palestinian groups — including US-designed terrorist organizations like Hamas and Palestinian Islamic Jihad — to refer to both unarmed campaigns and violent attacks against civilians.

Members of the Zionist group WFU Students Supporting Israel (SSI) have expressed opposition to the display, posing before it with an Israeli flag and a banner reading, "Jewish are indigenous to Israel, change my mind."
— Ozraeli Dave (@Israellycool) February 27, 2019
Guardian employs 'What would Jesus think?' trope to sell anti-Israel narrative
Though some such articles include the explicit (false) claim that Jews oppressing Christians in the Holy Land, most – such as this latest Guardian piece – are at least laced with the implicit suggestion that Israel is corrupting the birthplace of Jesus and defiling sites of religious significance.

However, if the Guardian reporter wanted to really meditate upon what Jesus would think of the modern Jewish state, he could explore the country's record in safeguarding the rights of its Christian community, and their holy places, and how this contrasts with the persecution of Christians in the rest of the Mid-East. Or, more relevant to the topic at hand, he could report on the state's internationally recognised advances in desalinisation and other water technologies. Israel may not be able to boast of changing water into wine, but an Israeli company (Watergen) has managed to create a device that miraculously creates drinking water literally out of thin air.

Israeli technology uses a series of filters to purify the air, take out the humidity and transform it into clean drinking water.

Moreover, Holmes' lengthy Guardian article doesn't touch upon any genuine religious issues at stake in ongoing problems affecting the Kinneret and Jordan River, suggesting the Jesus references merely serve as an evocative hook to draw anti-Israel readers in to an otherwise dry and detail rich environmental themed piece – a journalistic device to sell a desired narrative that's as predictable as it is cynical.
BBC portrayal of the AMIA bombing omits significant information
The final paragraph in that report reads as follows:
"In 1994, the Amia building was targeted in a bomb attack that killed 85 people and remains the country's deadliest terrorist incident. Much of the evidence was subsequently lost or contaminated and no-one has been convicted in connection with the bombing."

While those two sentences are in themselves accurate, is that really all the BBC has to tell its audiences about the AMIA bombing?

No mention of the Interpol red notices for four Iranian officials that remain in effect. No mention of the indictment of Argentina's former president and foreign minister on charges of covering up Iranian involvement in the AMIA bombing. And no mention of the murder of the special prosecutor for the investigation into the bombing, Alberto Nisman.

That's quite some omission, even by BBC standards.
Outbreak of anti-Semitism forces France to confront painful past
A surge in anti-Semitic violence and hate speech has prompted soul-searching for many in France, which has long wrestled with its history of discrimination and prejudice against Jews.

"Anti-Semitism has very deep roots in French society," Prime Minister Edouard Philippe said this month after a prominent writer was accosted in the street and warned that "France belongs to us."

The number of anti-Jewish offences reported to police rose to 541 last year from 311 in 2017, after falling for two years.

Dozens of Jewish cemeteries have been desecrated, and swastikas have been found scrawled on the doors of people's homes. One elderly Holocaust survivor was even murdered in a grisly attack thought to be motivated in part by anti-Semitism.

France, home to Europe's biggest Jewish community, hopes that curbing incendiary hate speech online and an increased focus on anti-racism education will help cut down on the vandalism and threats.

But the problem goes back centuries in a country with a long history of anti-Semitism, at times endorsed by the state.
Crown Heights communities seek cohesion after spate of anti-Semitic attacks
Residents of Crown Heights, a diverse New York neighborhood far from Manhattan's skyscrapers, are trying to understand a spate of anti-Semitic attacks that has brought back painful memories.

In recent months, several people wearing the traditional black clothing and hats of the Orthodox Jewish community have been viciously assaulted — sometimes in broad daylight.

So far this year, complaints of anti-Semitic crimes have soared by 71 percent in New York, compounding a 23 percent increase in 2018.

The assaults have most impacted Crown Heights, and Borough Park to the southwest of Brooklyn.

Most of the alleged perpetrators have been arrested and the police have stepped up patrols, but the violence marks a troubling development — and for many locals harkens back to a difficult time.

In 1991, tensions between the Jewish and African American communities boiled over, erupting into America's only anti-Semitic riot and rocking Crown Heights for three days.

The riots exploded after one of the cars in a motorcade transporting Rabbi Menachem Schneerson, head of the Crown Heights-based Chabad-Lubavitch movement, accidentally crashed into two black children.

One died and the other was seriously injured, and in the ensuing violence a Jewish student was fatally stabbed by a black teen.
Pittsburgh Presbyterian seminary's summit has anti-Israel presentations
Speakers at a summit on racial justice in Pittsburgh used antisemitic tropes and bashed Israel.

The Racial Justice Summit was held at the end of January at the Pittsburgh Theological Seminary, a graduate theological school of the Presbyterian Church, the Pittsburgh Jewish Chronicle reported. The summit has included anti-Israel presentations at least since 2017, according to the newspaper.

Among the accusations at this year's summit were that Israel was founded by "a political movement that was conceived by wealthy Jewish businessmen in Eastern Europe," that Zionism is an "antisemitic lie," and that there was no Jewish connection to the land of Israel.

Laura Horowitz, a Pittsburgh Jewish woman who attended the summit, wrote on Facebook, according to the Chronicle, that she was "angry" that "a roomful of people sat there and watched this Jew hating go on without saying a word."

In a letter to the Chronicle, the seminary wrote that it was "saddened that this perception (that it facilitates anti-Israel sentiment) persists."

"The Seminary community recognizes that if we are going to be one Pittsburgh, everyone must listen and everyone must be heard. We aspire to model the kind of dialogue we want our students to have when divergent political and theological viewpoints arise. In this time in our country, respectful disagreement is especially urgent. Love of neighbor does not always mean agreeing; but it does require honoring others' humanity," it wrote.
Antisemitic Mural in Los Angeles Found Defaced, Day After Mayor Condemns It
An antisemitic mural on the side of the Vortex community center in downtown Los Angeles was found defaced on Wednesday morning, the day after it was condemned by L.A. Mayor Eric Garcetti.

The mural depicts the Grim Reaper wrapped in an American flag in which some of the five-pointed stars have been replaced by six-pointed Stars of David, which are popularly recognized as Jewish symbols. The Grim Reaper holds a missile and a dead baby. According to Aaron Bandler of the Jewish Journal, "A Los Angeles artist known as Vyal Reyes appeared to take credit for the mural on his Instagram account in January 2018." The Vortex had earlier told the Journal that the mural was painted several years ago as part of an anti-war message, and refused to remove it.

Mayor Garcetti — the city's first Jewish mayor — condemned the mural Tuesday. Others called for the mural to be taken down by the Vortex.

When Breitbart News arrived on the scene at approximately 6:50 a.m. on Wednesday morning, the mural had been defaced with a splash of white paint, with the words, "No Place for Hate" painted in red and yellow.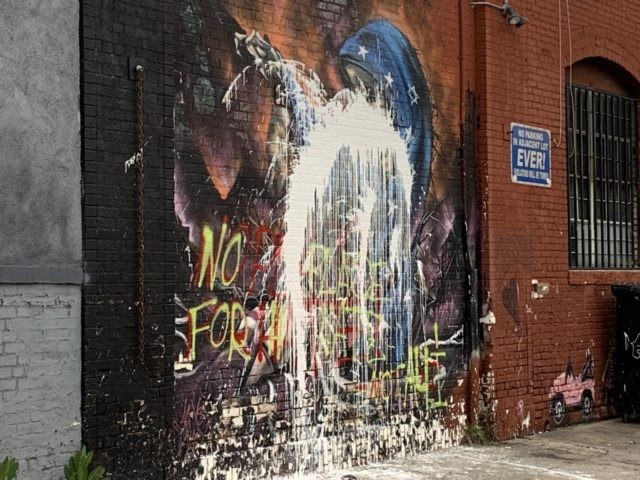 Antisemitic Statements by Mauritanian Cleric: The Jews Are Allah's Enemies
Mauritanian cleric Muhammad Ould Dedew said in a February 12 show on Dorar TV (Sudan) that the Jews are the enemies of Allah and of economy and that they use false means to plunder the wealth of others. He said that they are behind insurance companies, casinos, lotteries, and usurious banks. He also said that the Christians are arrogant and haughty by nature. In a February 5, 2019 show on Al-Aqsa TV (Hamas/Gaza), Dedew said that there will be two great wars with the Jews in which they will be the followers of the Antichrist and in which the rocks and the trees will call out to Muslims saying that there are Jews hiding behind them. In addition, he said that the Zionists are a wretched people and that Jerusalem will be liberated soon.
Mayors Across The Globe Announce Coalition To Battle Anti-Semitism
A prominent group of mayors from different countries announced the launch of an organization against anti-Semitism called the "Global Mayors Coalition Against Hate, Antisemitism and BDS" on Wednesday.

The BDS movement seeks to penalize Israel for their treatment of Palestinians. But some consider it to be anti-Semitic because they only seek to punish one country for their behavior — the Jewish one.

Mayor Uwe Becker of Frankfurt, Germany; Mayor Gabriel Groisman of Bal Harbour, Florida; and Mayor Haim Bibas of Modiin-Maccabim-Reut, Israel, announced the coalition's creation at the MuniWorld Conference, which is the annual international municipal conference hosted by the Federation of Local Authorities in Israel.

The group, which also included mayors from Argentina and Spain, plans to convene an annual meeting to discuss how they are working towards eradicating anti-Semitism.

Groisman, who is Jewish, has been an ardent member in the fight against the BDS movement. He previously wrote and passed the first municipal anti-BDS ordinance and the first codification of a unified definition of antisemitism in the United States.
United Airlines vows to combat antisemitism
Following several alleged antisemitic incidents during flights, United Airlines has vowed to combat antisemitism in its ranks.

The statement was made during a meeting on Monday between high-ranking United Airlines representatives and Duvi Honig, founder and CEO of the Orthodox Jewish Chamber of Commerce at the Newark Airport hub.

The two parties discussed the airline's relationship with the Jewish community, its families and business travelers.

The airline reached out to the Chamber after it publicized a recent troubling incident with a young Jewish mother, which was followed by another troubling incident experienced by an elderly Jewish couple.

During the meeting, the United officials expressed their disappointment in these events and vowed to take concrete steps to battle antisemitism in its ranks, improve customer service and prevent any similar incidents from occurring in the future.

They thanked the Chamber for bringing the relevant issues to their attention and working to build bridges between the community and the airline, which is currently the fourth largest in the nation.

At the meeting, the officials, which included Magda Morais, Managing Director of Customer Service; Matt Colbert, Director of NY/NJ Strategic Initiatives; and Jon Gooda, Director of Customer Service; listened to Honig as he shared the concerns of the Jewish community's over the incidents and the "Chamber's mission to build positive relationships between the community and all echelons of the business world.
12-year-old arrested for drawing dozens of swastikas on Queens school playground
A 12-year-old boy was arrested for drawing dozens of swastikas and anti-Semitic messages on a school playground in New York City.

The boy was charged on Wednesday with aggravated harassment for the symbols and messages including "Heil Hitler" and "No Jews allowed," according to reports.

He was released by police to the custody of his mother and will appear in court at a later date. The boy's name was not released.

The chalk drawings at PS 139 in Rego Park, in the borough of Queens, were discovered by the custodian on Friday, according to reports. School was not in session, but the playground was open to the public.

"Truly unbelievable. I am shocked that a 12-year-old committed this crime. It's completely unacceptable and has no place in our society," Council Member Karen Koslowitz tweeted Wednesday night.
Drones launched to help preserve Europe's Jewish cemeteries
A private organization that wants to preserve thousands of old Jewish cemeteries in Europe is using aerial drones to map burial sites in countries where the Holocaust decimated Jewish populations that existed before World War II.

The European Jewish Cemeteries Initiative said Tuesday that teams of drone operators plan to survey 1,500 endangered Jewish cemeteries in Slovakia, Greece, Moldova, Lithuania and Ukraine this year. Once the boundaries are recorded, the sites will be enclosed and cleaned, the Germany-based organization said.

The European Union is funding the effort with an 800,000 euro grant ($911,100) at a time of rising alarm over anti-Semitic acts in some countries. This month, swastikas were painted on about 80 gravestones at a Jewish cemetery in France, and vandals damaged windows, sinks and a prominent headstone at a Jewish cemetery in northwestern England.

The chief executive of the initiative, Philip Carmel, said walls fitted with locking gates will be erected around the graveyards covered by the EU-funded project both to protect them and to re-establish a physical presence, "so people know there's a Jewish cemetery."
Oskar Schindler's personal possessions hit auction block
Several personal possessions of Oskar Schindler, the German industrialist who saved the lives of about 1,200 Jews during World War II, are up for auction.

Schindler's Longines wristwatch, a compass he and his wife reportedly used in 1945 as they fled advancing Russians, two Parker fountain pens, and several other items are being sold by Boston-based RR Auction.

The belongings being sold as a package are expected to fetch about $25,000 in the auction that ends March 6.

RR's executive vice president Bobby Livingston says the possessions are from the estate of Schindler's wife, Emilie, who died in 2001.

Schindler, a Nazi party member whose story was told in the 1993 Oscar-winning movie "Schindler's List," saved Jews by employing then in his enamelware and munitions factory in Krakow. During the war years, he spent his entire fortune on bribes of Nazi officials and supplies his workers needed to survive, emerging from the war a destitute man.

He died in 1974.
Six Israeli Startups Make List of World's 50 Most Innovative Companies
Every year, Fast Company magazine ranks the world's 50 most innovative companies. This year, six companies from Israel made the list, and ISRAEL21c has featured all of them.

Vayyar Imaging came in No. 2 in the "Middle East" category. The company's low-cost 3D imaging technology is used in cars, smart homes, agriculture, robotics, medicine and more. Vayyar's sensors can see through materials, differentiate between objects and people, and map environments in real time. Vayyar technology can be of value in everything from elder care to home improvement (its Walabot device reveals any pipes or wires behind the wall before you drill.)

Innoviz makes smart LiDAR systems – the "eyes" in next-generation autonomous vehicles. Innoviz's LiDAR sends out pulsed laser beams to measure and monitor a car's surroundings. The company, which won an award at the 2019 CES show in Las Vegas, is now being integrated into BMW autonomous vehicles to be launched by 2021 and is opening a 4,000-square-meter production facility in China.

SpacePharma helps pharmaceutical companies conduct tests in zero gravity, a great environment for bacteria to grow faster and often stronger than on Earth. "On Earth, a petri dish allows you to grow a culture in two dimensions," SpacePharma's chairman Yossi Yamin told ISRAEL21c. "But with low gravity in orbit, you get a third dimension." One of SpacePharma minilabs is integrated with the International Space Station.
Iraqi-Israeli musician finds fans from Tel Aviv to Baghdad
Singing in Arabic, an Israeli musician is winning over listeners from Tel Aviv to Baghdad, covering tunes by his grandfather and great uncle, an Iraqi Jewish duo who were once two of the Arab world's most famous performers.

Dudu Tassa's new album, El-Hajar, which in Arabic means "exile," is a mashup of modern takes on melodies made popular by his forebears, the late Daoud and Saleh al-Kuwaiti, who fled from Iraq to Israel close to 70 years ago.

"Over there, they owned a club and played in major concert halls," Tassa said, adding that his grandfather's music was adored by Faisal II, the last king of Iraq.

"In Israel, they ended up playing at weddings and bar mitzvahs," Tassa, 42, said. "There was a real sense of pain there. It wasn't easy for them."

The musician's family was among the tens of thousands of Iraqi Jews who fled in the mid-20th century to Israel, whose creation in 1948 and successive defeats of Arab armies caused bursts of popular anger and violence against Jews. (h/t Zvi)
How the Anti-Semitic Dreyfus Affair Led to the Creation of the Tour de France
France in the 1890s saw both a bicycling craze and the Dreyfus Affair, in which the Jewish officer Alfred Dreyfus was framed for passing military secrets to Germany, sparking an intense controversy. In 1899, a few years after Dreyfus's conviction, Emil Loubert, known to sympathize with him, became president of France. Nick Gendler writes:

On June 3, 1899, the French supreme court overturned the original court-martial judgment against Dreyfus and ordered a retrial. Tensions were high when, the following day, Loubert accepted an invitation to watch horse-racing at the Auteuil Race Course. Unlike the Longchamp racecourse which was frequented by the lower classes, . . . Auteuil was the playground of the wealthy, monarchist, anti-Republican, and mainly anti-Dreyfusard classes. Loubert's presence was seen as provocative and he was confronted by hordes outraged by the order for a retrial. The demonstration turned violent almost as soon as the president took his seat. Among those who were arrested following the fracas was the wealthy industrialist Jules Albert Compte de Dion. . . .

Pierre Gifford, the editor of the [sports] newspaper Le Vélo ["The Bicycle"], criticized the demonstration. . . . Politically, Gifford was on the left and wrote scathing articles criticizing Dion and other anti-Dreyfusards, despite many of them being important advertisers in his newspaper. Gifford's reporting of the demonstration incensed Dion and other industrialists such as Eduard Michelin, a vigorous anti-Semite, and Gustave Clement. . . .

Dion and his allies decided to withdraw their advertising and to launch their own rival paper, L'Auto-Vélo. . . . In November 1902, as the newspaper, [now simply called] L'Auto, struggled with circulation at consistently around a quarter of that of Le Vélo, . . . a young reporter by the name of Geo Lefevre, allegedly desperate to suggest something, spontaneously floated the idea of the Tour de France as a promotional enterprise.
---
---
We have lots of ideas, but we need more resources to be even more effective. Please
donate today
to help get the message out and to help defend Israel.